Messing Materiaal Multi Jet Water Meter
Productomschrijving
Beschrijving

Deze reeks watermeter wordt gebruikt voor het meten van de totale hoeveelheid koud drinkbaar water dat in huishoudelijke of inwonende eenheid wordt verbruikt, door de pijpleiding door te gaan. Deze reeks watermeters wordt gebruikt om de totale hoeveelheid kouddrankwater in de pijpleiding van De familie of de bewoner.Brass materiaal multi mondstuk water meterBrass materiaal multi nozzle water meter bereik van water meter wordt gebruikt om de totale hoeveelheid koud drinkbaar water te meten, die in de huishoudelijke of een residentiële eenheid verbruiken, door de pijpleiding. Deze reeks water Meten worden gebruikt om de totale hoeveelheid kouddrankwater in de leiding van de familie of de bewoner te meten.
Kenmerken:

1.Dry-dial, Magnetische aandrijving, Weerstand tegen externe magneetinterferentie

2. Multi-jet

3. Geselecteerde materialen van hoge kwaliteit voor stabiele en betrouwbare eigenschappen

4. Vacuüm verzegeld register zorgt ervoor dat de wijzerplaat vrij van mist wordt gehouden en de aflezing op een lange termijn vrij blijft

5. Meet nauwkeurigheid conform ISO 4064 klasse B Standaard

6. Universeel gebruik. Gemakkelijk voor uitwisseling en onderhoud

Werk omstandigheden

Koude watertemperatuur: ≤40 graden, Warmwatertemperatuur: ≤90 graden

Waterdruk: ≤1Mpa
Basis informatie
Model nr .: LSX-15E
Medium Temperatuur: Koud Water
Tellerinstructies: Digitaal
Toepassing: Burgerlijk
Medium druk: Algemene watermeter
Struktuur: Traditioneel
Maat: Dn15-40mm
Certificaat: ISO4064 ISO9001
Handelsmerk: Gaoxiang
Specificatie: ISO9001 ISO4064
HS Code: 9028201000
Installeer: Horizontaal
Niveaumeting: B
Nominale Diameter: 15-50mm
Principe: snelheid van watermeter
Werkomgeving: Droge Watermeter
Kleur blauw
Materiaal: Messing / Strijkijzer voor Optie
Sleutelwoord: Multi Jet Water Meter
Transportpakket: Bruine Karton
Oorsprong: Linyi City Shandong Provincie
Wat zijn de details voor Brass Materiaal Multi Jet Water Meter?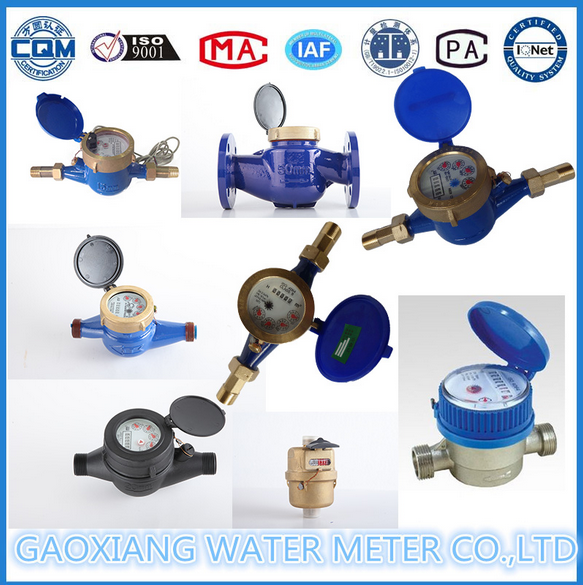 MOQ:
We kunnen uw proeforder accepteren, dan kunt u deze kans gebruiken om de kwaliteit van onze producten en diensten van ons bedrijf te controleren
Logo:
Kopers logo afdruk aanvaard
Voorbeeldbeleid:
Wij kunnen u een steekproef leveren voor het controleren van de kwaliteit, als u voor de steekproef en steekproef betaalt. Wij bezorgen u binnen 1-3 dagen nadat we uw betaling hebben ontvangen.
Levertijd:
De normale levertijd bedraagt ​​15-30 dagen, afhankelijk van uw hoeveelheid.
Betaalvoorwaarden:
L / C, T / T, Western Union, MoneyGram, Paypal.
Verzenden:
Wij kunnen de verzending met Courier (DHL, UPS, Fedex, TNT, enz.), Met de lucht of over zee voor u regelen.
Vertel ons welke verzendingswijze u wilt en uw gedetailleerde adres, uw dichtstbijzijnde luchthaven of zeehaven.
Lijst van concurrerende voordelen:
Wij zijn fabriek, kan u van hoge kwaliteit, de beste prijs
Professionele medewerker en effectief beheer
Professionele handelsdienst
Onmidelijke levering
Goede service en reputatie
Grote productielijn
Welkom om onze fabriek te bezoeken
Product Categorie : Machines productie watermeter > Multi-Jet watermeter